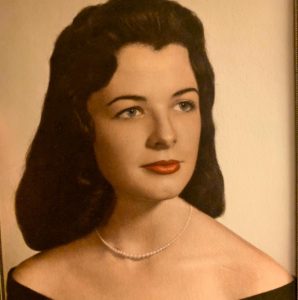 Kathleen M. Rose
August 22, 1942- February 7,  2020
Kathleen May Rose, 77, of Louisa, passed away peacefully and surrounded by her loving family on February 7, 2020.
Kathy, as she liked to be called by friends, and Kathleen by her family, was preceded in death by her second husband, Donald Rose, as well as her parents, Dennis and Annie Kearney, and her brothers Thomas Kearney and Dennis Kearney.
Kathy was born in Oakland, CA as the youngest of 5 children born to naturalized Irish immigrants. Kathy loved her family and especially her fur babies.  She loved rescuing pets of all kinds and always had a menagerie throughout her life. She loved all things that grew and could always be found puttering in her yard planting something that she started from a snip or a seed on her windowsill.  She was a diabetic for over 25 years, but loved to bake and buy sweets that she would keep one taste for herself and always share the rest with her family, neighbors and friends.  She loved attending her grandchildren's sporting events, watching NASCAR races, American Pickers, and all crime shows, as well as doing all types of puzzles, and crafting any project that piqued her interest.
Kathy leaves to cherish her memory her daughters, Wendy Smith (Mark) of California, Diane Purcell (David) of Louisa, and her grandchildren, Shelby and Nicholas Smith of California, and Katelyn and Jack Purcell of Louisa, and her constant companions Molly and Rue, as well as her brother Neil Kearney, her sister Margaret (Peg) Fong, and several nieces and nephews.
A Celebration of Life will be held at a later date.
In lieu of flowers, please consider donating to the American Diabetes Association or the Louisa County Animal Shelter.